I love CMJ week in NYC, it always brings a smile to my face.  It's like a week of music gluttony where you get to discover the new faces of music and see the progress of some old favorites as they strut their best stuff on the stage (eat your heart out fashion week...).  This year I had the good fortune of catching two bands that are really spreading their wings and beginning to make a splash in the local and national scene.  First up, The Blue Pages!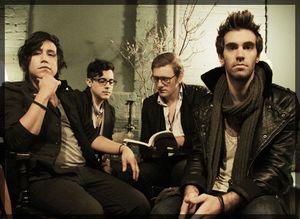 The Blue Pages played one of their CMJ showcases at Arlene's Grocery on Tuesday night, and what a show it was.  They pulled out all the stops, adding a laser light show and smoke machine to their set to accompany their sweeping soundscape.  Frontman Zac Barnett's personal, haunting, and inspiring lyrics through such songs as Run Back Home captivated the crowd, while Dave Rublin's deep-penetrating bass lines on songs such as Love You Fear enveloped the venue.  Guitarist James Adam Shelley's energy on stage was simply electrifying while Drummer Matt Sanchez's beats and backing vocals brought the crowd to its feet.  I was sort of bummed that the crowd didn't sing Zac a happy birthday, but all in all, it was an awesome show; and not just because of the open bar...  For more information on The Blue Pages, you can check them out
RIGHT HERE
, or tune into MTV's Chelsea Settles where you can hear their song Keep Me Dreaming.

Next up is another Blue band that goes by the name Blue Kid.  This band, headed by the overly charming Lydia Benecke, won Flavorpill's national A Band Apart competition, which enabled them to play at Flavorpill's CMJ Showcase at Le Poisson Rouge Saturday night.  Unfortunately, I was not able to attend that showcase... BUT, they played a special very intimate performance at the Sidewalk Cafe Friday evening which I was lucky enough to catch.  Blue Kid managed to whisk the audience away to the land inside Lydia's head, which at times is both comical and frightening; a curious but compelling combination, and definitely a journey worth taking.  Lydia's fingers gracefully danced across the piano as her vocals pulsated throughout the venue, while Guitarist Matt Brogan complemented the sound with a lovely mix of classic jazz and a bit of brit rock.  Bassist Nick West and drummer Damian Vancamp worked well playing off of each other, driving the songs forward. while Matt Skrzynski added some nice layers on keys.  You can learn more about the band at their website by clicking
HERE
, and don't forget to check out their newest single "Crush" while you're at it!